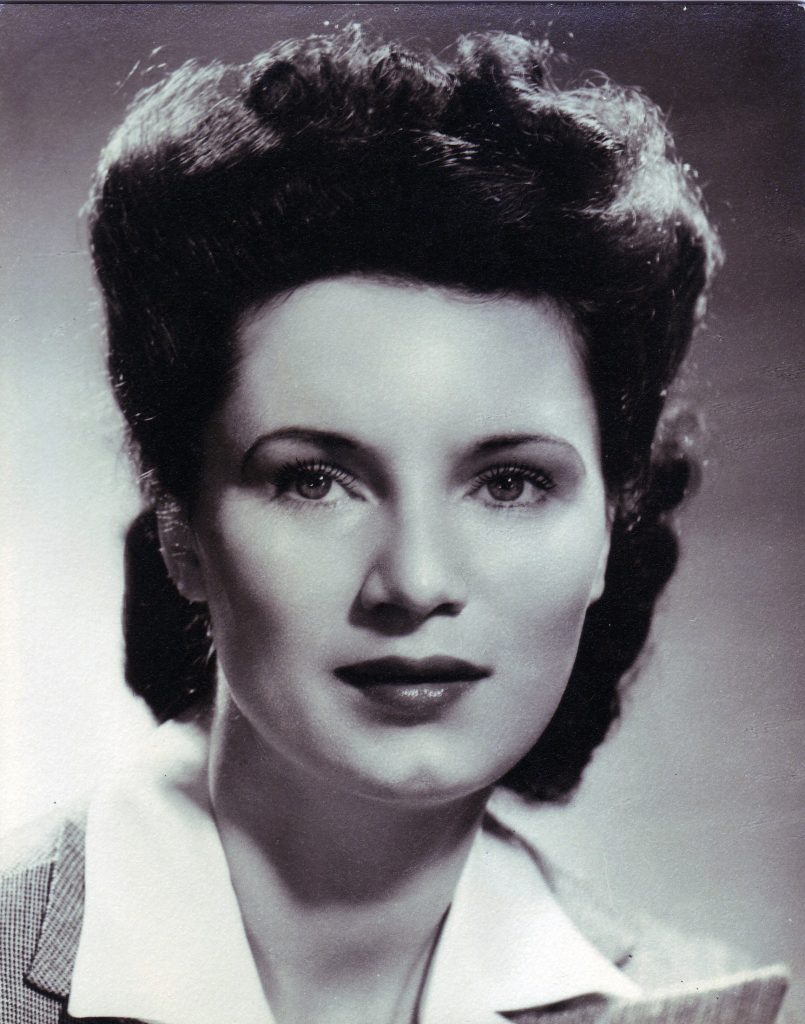 ABC Radio National interview on Verbatim, 25th August 2001
Model, sportswoman and friend of high society – Sydney Morning Herald Obituary, June 28th, 2008
WHEN Gladys Fortescue started modelling in Sydney in the 1930s, she was a tall, attractive woman described by one agent as Aphrodite's face with Juno's body. She soon found work modelling clothes and swimwear.
She has claim to modelling the first bikini in Australia and once lost a rubber bikini top in the surf during a modelling shoot at Manly Beach in the late 1940s. She crouched in the water and waited till someone waded out with a towel to rescue her honour. Rubber bikinis didn't catch on.
Wood was also an exceptional golfer, playing off scratch. Her local professional and coach tried unsuccessfully to persuade her to turn professional in the early days of women's pro golf. She played the game she loved all her life and scored for Wayne Grady and Peter Fowler when they won the World Cup of Golf for Australia in 1989.
Gladys Fortescue was born and grew up in Goulburn, the middle of the three daughters of Frank Fortescue, a wool classer, and his wife, Catherine (McCarthy), who raised the girls after her husband deserted the family. Following the early death of her older sister, Katherine, Gladys moved to Sydney at 19 to study nursing. She turned to modelling and, during World War II, made clothes for the war effort.
In 1942, she was at a bar to meet her boyfriend but his battalion had been suddenly called away up north, and a friend introduced her to an American fighter pilot, Marion John Wood (Woodie). They married in November that year. Whenever Woodie was in Sydney on leave they were one of the city's glamour couples: the war hero fighter pilot and the gorgeous model.
Wood travelled by boat in 1944 to meet Woodie, who had become a fighter pilot instructor at Punta Gorda, Florida, and then on to Fort Leavenworth, Kansas. After his discharge, they spent time in Woodie's home state of New York before returning to Australia. Wood went back to the fashion industry but now as a fashion designer and buyer. She was also successful, travelling around Australia buying and selling clothes.
In the 1960s the Woods moved with their two sons to London, where she trained to become a beautician under the Hollywood actress Vivien Leigh's mother, Gertrude Hartley. Somehow Wood always seemed to rub shoulders with the famous and powerful and few people were immune to her natural, talkative charms. At various times, she counted among her friends the Australian politician and short-term prime minister Earle Page, whose son she briefly dated, Test cricketer Jack Fingleton, actor Sean Connery and English footballer Kevin Keegan (she called him a lovely young man). She provided lodgings and cooked dinner for the publicity-shy Rod Laver the night before he won his first Wimbledon title in 1961. Steak and three veg, cooked to death, plus large amounts of whisky was a formula for victory in those days.
The Woods retired to the Costa del Sol, where she organised the first regional women's golf competition in Spain. The trophy is still named after her: La Copa de Gladys Wood.
After Woodie died in 1996, she returned to Australia and became a virtual permanent fixture in her apartment block's lobby, charming, amusing and occasionally boring all comers.
She loved people and lived to entertain and be entertained. She liked to insert well-known sayings (All that glitters is not gold) into conversation and had her own versions of other sayings (Onwards if not upwards).
She was the perfect grandmother with her warmth, down-to-earth manner and partisan interest in family affairs. Childish gifts – the plastic hand of a green monster, for example – were kept and lovingly produced from her purse decades later with a flashing smile and an amused Oh darl! She would also side with her daughters-in-law against her sons in any dispute.
Gladys Wood died peacefully at 92 putting on her makeup before going to breakfast. She is survived by her sons John and David, daughters-in-law Debbie and Anne, and five grandsons, Danny, Thomas, Ben, Tholli and Sam, and her sister Lillian.